---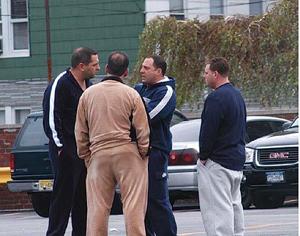 The members of an alleged loansharking ring run by 10 members and associates of the Bonanno crime family are scheduled to go on trial starting June 25, 2018, according to a spokesman for the U.S. Department of Justice.
The date was set during a Sept. 18 conference on the charges against alleged acting Bonanno capo Ronald "Ronnie G" Giallanzo and nine other defendants.
A judge was notified at the hearing that the defendants and the government have been and continued to be engaged in plea negotiations.
The next status conference is set for Nov. 20 at 10 a.m.
Giallanzo, 46, is the nephew of alleged Lufthansa heist man Vincent Asaro, who beat his charges in 2015. Giallanzo allegedly became acting capo in 2014, after his first cousin, Jerome Asaro, was arrested.
He and the other nine defendants were arrested in March on various charges including loansharking, extortion, obstruction of justice and attempted murder. According to the charges, Giallanzo provided money to some of the defendants to give "extortionate loans" to numerous individuals. The DOJ alleges the crew engaged in acts of violence to collect debts owed to them. In one case, Giallanzo allegedly sought to have an individual who robbed one of his crew members murdered. The dispute lasted several months and the two crews often shot at each other on Howard Beach streets, the DOJ said.
Two of the defendants are charged with attempting to lie to a grand jury about the alleged operation.
http://www.qchron.com/editions/south/alleged-howard-beach-loan-sharks-get-trial-date/article_46d04ffe-e2af-5d46-8dc9-e0e59f6c7b2c.html