---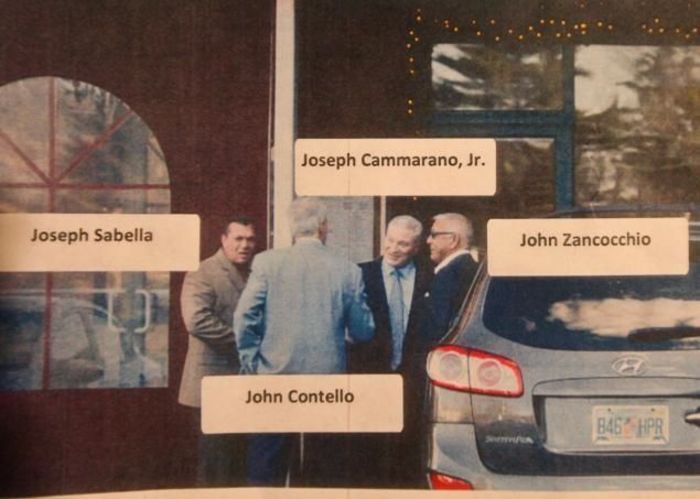 The acting boss of the Bonanno crime family and other top-echelon leaders were among 10 mobsters busted Friday on racketeering charges, the Daily News has learned.
A 16-page federal indictment charged leader Joseph "Joe C" Cammarano Jr. and the rest with a variety of charges, including conspiracy to commit murder, extortion and drug dealing.
Charged along with Cammarano were Bonanno consiglieres John "Porky" Zancochio and Simone Esposito, as well as capos Joseph "Joe Valet" Sabella and George "Grumpy" Tropiano.
The Bonanno family also "met with leaders, members and associates of other La Cosa Nostra Families to resolve disputes over their criminal activities," the indictment said.
And paranoid family members and associates tried to ferret out possible informants within their ranks — a major concern for the Bonannos.
The mob family was famously infiltrated for six years by FBI agent Joe Pistone, and its boss Joseph "Big Joey" Massino flipped after a 2003 arrest to become the highest-ranking Mafia turncoat ever.
Cammarano, the son of a mob underboss who died in prison, reportedly took over in 2015 as the decimated family tried to rebuild itself.
The Brooklyn native is a Navy veteran who served on a nuclear submarine in an elite patrol unit.
The Manhattan Federal Court indictment comes just two days after five accused Genovese family mobsters — including late boss Vincent "Chin" Gigante's son, Vincent Esposito — were nabbed on racketeering charges.
In the Friday court filing, Bonanno soldier Albert "Al Muscles" Armetta was charged with beating an unidentified victim on Halloween 2015 "for the purpose of gaining entrance to" the crime family.
The 10th defendant was identified as Eugene "Boobsie" Castelle, a Lucchese family soldier who teamed with the Bonannos on "one or more criminal schemes," the indictment charged.
http://www.nydailynews.com/new-york/nyc-crime/suspected-bonanno-mobsters-busted-racketeering-related-charges-article-1.3753152