---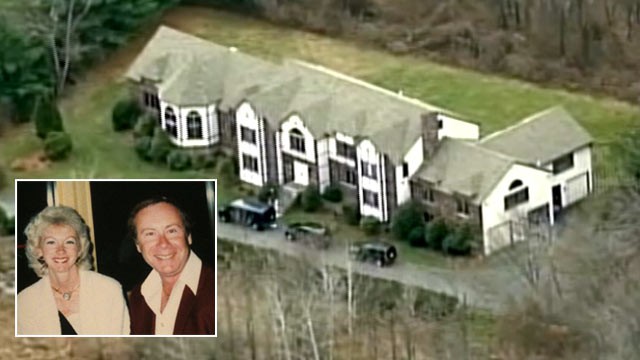 The million-dollar home where John and Geraldine Magee were found slain, victims of an apparently targeted shooting, December 14, 2011
The Boston-area couple that was gunned down in their multi-million dollar mansion was reportedly found lying head-to-head, shot in their necks, with all shell casings cleaned from the scene of the crime, all signs pointing to a well-planned murder.
Police investigating the murder of real-estate developer John "Jack" Magee, 69, and his wife Geraldine, 67, are now calling the crime a double homicide, but refuse to confirm further details in their investigation and are saying only that they have no suspects. An autopsy is now being conducted to find out exactly how the couple died.
Adding to the mystery surrounding their deaths is that the couple's Lexus SUV was found 25 miles away on Wednesday, having been set ablaze. The vehicle was found in Boston's North End, in an area known for mob activity.
ABC News has learned that the Magees were found dead Wednesday morning by their daughter and grandchildren. The family members made the grisly discovery on the first floor of the couple's 6-000 square foot estate as they were bringing the children for a regular Wednesday morning visit.
The front door of the couple's home was found unlocked with the family dog still inside, according to police, who are reassuring residents that there is no cause for fear after the first murder in the community in more than a decade.
"Jack and Jeri used to be Grandma and Grandpa, and they would babysit on Wednesdays for the kids," Paul Mercandetti, a friend of the Magees, told ABC News.
Mercandetti, who has known the couple for more than 40 years and was best man at their wedding, told police that he had just eaten dinner with the couple Friday night. He said that he finds it hard to believe they could have been targeted.
"I know a lot of their friends they have, and people they do business with, and there is absolutely no reason at all why this happened," he said, adding, "Jack is a guy that strives to makes things right and does things properly."
The Magee family released a statement today to the Boston Herald:
"The family of Jeri and Jack Magee would like to thank all of those who have expressed their sympathy and offered their prayers," the statement said. "Jeri and Jack were wonderful individuals and a gift to all who knew them. We will miss them dearly."
The family expressed their gratitude to all of the law enforcement agencies that have been working "to solve this tragic and senseless crime." They also asked for privacy "to grieve and deal with this tragedy."
Mercandetti says the son of the couple, who had two adult children, was in the process of taking over the family's home construction business, one of the most lucrative development companies in Andover.
Friends and neighbors said that Magee had built most of the houses on his street.
http://abcnews.go.com/US/massachusetts-mansion-murders-details-emerge-police-seek-clues/story?id=15168313#.Tu0A5PJki7t