---
John Gotti associate Louis Ferrante came up with an unusual defense strategy when the law caught up with him – learning to rap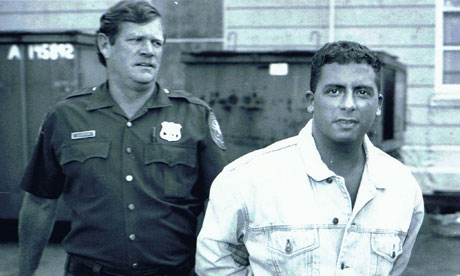 Pete Nice had never been in a business meeting quite like this one. The rapper was sitting at the middle table in the front room of the Brooklyn steakhouse Peter Luger. Across the table was an under-boss of the Gambino crime family, an associate of "Dapper Don" John Gotti, who was about to be indicted by the FBI and the US secret service for credit-card fraud.
It was 1993, and as Nice ate his steak, creamed spinach and potatoes, Louis Ferrante leaned across the table and made a request. He wanted to be taught how to rap. Ferrante had made his name by hijacking trucks, graduating from street thug to running his own crew in his family. And now, with multiple agencies threatening to take him down, he needed a trial defence, fast.
This came when an associate of his, going by the name of Big Paulie, had dinner with Mickey Rourke. The actor was on a trip to New York, and at the dinner, he mentioned to Paulie that a rap group in California were making a song about Gotti, who had recently been arrested. Ferrante started thinking: what if he made a song about how Gotti got railroaded by the law? He could claim the government had a vendetta, that they came after him because he supported Gotti.
Which is how Nice – born Peter Nash, and a member of rap group 3rd Bass – found himself at Peter Luger. Ferrante already had the lyrics, written by his pal "Fat George" DiBello, caretaker of Gotti's club in Queens and apparently something of a wordsmith. All Ferrante needed, he told Nice, was the music – and a lesson in MCing.
A few days later, Nice and producer Sam Sever met with Ferrante at Chung King Studios in Manhattan. "Lou was very motivated and showed lots of enthusiasm in the studio," recalls Nice, "so I got him in the booth with my artist Kurious Jorge and we just coached him through the ins and outs of his flow."
Ferrante says he was impressed with Nice right away. "He was very, very reserved. I saw right away that he was more polished and educated than us; he wasn't like a street kid, and getting to talk to him, I did see that."
Later that year,
Justice Not Found: The John Gotti Story
dropped in New York. Newspapers and TV stations queued up to interview Big Lou, a name suggested by Nice as a replacement for Ferrante's original choice, Italian Ice. Newsday, the suburban New York tabloid, ran a full-page piece, and the unlikely song was played on radio stations across the city and beyond.
The story has no happy ending for Ferrante. William Kunstler, the famed civil-rights attorney hired by Ferrante to defend him, tried his best. But the judge would not admit the song as evidence unless Ferrante took the stand himself to state that he had recorded it. It was the one thing he could not do.
"I was guilty as sin for a million different things," he says. "The first question they would ask me would be: do you know John Gotti? I would have either had to deny that I knew him and lie, and they would have presented maybe pictures or something of me with [him], or I would have already looked foolish to the jury by saying, I can't answer that. So I couldn't take the stand, and he didn't let the defence in. And that was the end of me." Ferrante was sentenced to 13 years in prison.
Neither rap nor crime feature in the lives of Ferrante and Nice any more. Nice quit music soon after, and became a respected baseball historian. In prison, Ferrante discovered literature, and went on to become a motivational speaker and bestselling writer (he is author of the book Mob Rules, which applies mafia rules to company management).
And the song itself? Ferrante is no Rakim, but it's not bad. Looped clips of Gotti's TV interviews blend with typically heavy Sever production, and Nice's influence can be heard in Ferrante's surprisingly tight flow. And on one record, at least, a genuine mobster got to pick up the mic.
http://www.guardian.co.uk/music/2011/dec/08/mafia-louis-ferrante-gotti-rap?newsfeed=true