---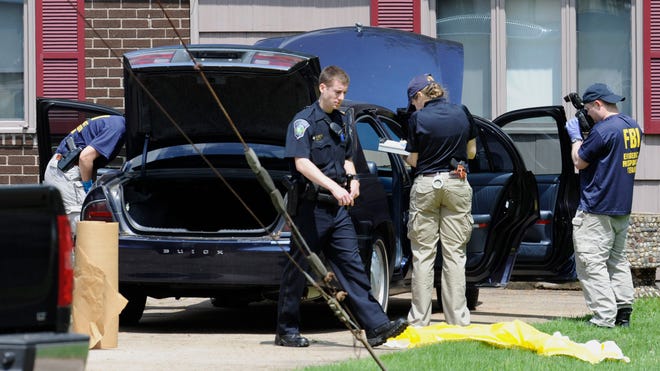 FBI agents on Thursday searched the property of a reputed Connecticut mobster suspected of having information about the 1990 robbery of a Boston museum that remains the largest art heist in history.
Agents examined a car in the driveway, searched a wooded area and removed boxes of evidence from the ranch-style suburban home of 75-year-old Robert Gentile, who has been detained since February on federal drug and weapons charges.
A lawyer for Gentile, A. Ryan McGuigan, said the FBI returned to his client's property in Manchester, just outside Hartford, because the agency had a new warrant allowing the use of ground-penetrating radar to look for buried weapons. McGuigan said he believes agents are really looking for stolen paintings but will find no such thing.
"This is nonsense," McGuigan said. "This is the FBI. Are you trying to tell me they missed something the first time? They're trying to find $500 million of stolen artwork. ... All they're going to find is night crawlers."
A federal prosecutor said in March the FBI believes Gentile had some involvement with stolen property related to the 1990 heist at Boston's Isabella Stewart Gardner Museum. Thieves disguised as police officers struck as Boston finished celebrating St. Patrick's Day, binding two guards before stealing masterworks by Rembrandt, Vermeer, Degas and Manet worth more than a half-billion dollars.
Gentile has not been charged in the art robbery and McGuigan says his client does not know anything about it.
A U.S. attorney's office spokesman declined to comment. A message left with an FBI spokesman was not immediately returned.
Gentile was arrested three months ago on a charge of selling illegally obtained prescription painkillers. Federal agents say they seized three revolvers, numerous rounds of ammunition and home-made silencers during a Feb. 10 search of Gentile's home.
Gentile was arraigned last month on weapons charges. He leaned on a cane as he slowly rose before a judge in federal court in Hartford to plead not guilty to three charges.
His attorney says authorities first approached Gentile about the heist two years ago and, when he offered no information, they dispatched an undercover witness to buy prescription drugs from him.
The museum continues to offer a $5 million, no-questions-asked reward. Gentile's lawyer says that if he were some type of arch-criminal, he would have figured a way to get the reward money.
Prosecutors say Gentile is a member of a Philadelphia crime family. His lawyer denies the mob allegation.
Gentile was convicted of larceny in 1996. Convicted felons may not possess firearms or ammunition that have been transported across state lines or from overseas. Federal law also prohibits possession of a silencer unless it's been registered.
Each of the three weapons charges carries a maximum prison term of 10 years and a fine of up to $250,000.
Authorities say FBI agents have had unproductive discussions with Gentile about the art theft.
http://www.foxnews.com/us/2012/05/10/agents-swarm-reputed-mobster-home-in-conn/#ixzz1uU7ib6gE