---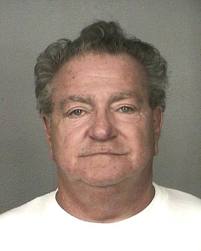 New York was too hot for Chilli last Christmas.
Bonanno crime family captain Gerard Chilli flew north from his Florida home last December for a holiday season jaunt to the Big Apple.
His first mistake was deciding not to hop in a cab once his plane touched down.
Instead, Chilli was picked up at the airport by Anthony "Fat Tony" Rabito, a high-ranking Bonanno who once was a member of the crime family's administration, sources said.
Unfortunately for the visiting 78-year-old Florida mobster - who's on probation after a prison stint on mob extortion charges - FBI agents were keeping tabs on his activities in New York.
Not only did agents see Chilli hobnobbing with Rabito - but they also saw the Sunshine State capo socializing with Peter Lovaglio, 51, another Bonanno captain who himself is on probation, sources said.
Those meetings created legal problems for both capos, officials say, because they're barred from consorting with organized crime figures while on probation.
Last week - after Brooklyn federal prosecutors hit Chilli with probation violation charges - he was arrested in Florida and a Miami federal judge ordered him to be held in custody.
Chilli will be brought to New York to answer the probation violation charges at a future hearing in Brooklyn federal court.
Lovaglio already has pleaded guilty to three probation violations and now is under house arrest while awaiting sentencing by Brooklyn federal Judge Dora Irizarry.
Both wiseguys could be sent back to prison for the alleged probation violations, officials say.
http://www.nypost.com/p/news/national/freed_mob_big_wings_clipped_A11aqhg7FYAmfFT9lk62oK