---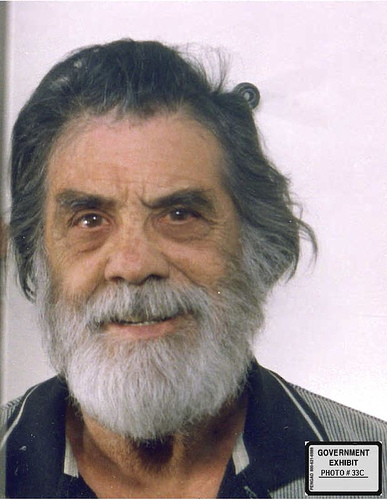 Imprisoned Chicago hit man and 84-year-old mob boss Joey Lombardo will remain in solitary confinement.
In Wednesday's ruling, US District Judge James Zagel denied Lombardo's request to get out of what is commonly known as "the hole" saying "this court has no jurisdiction" to make that decision. In Judge Zagel's order, he suggests Lombardo file a lawsuit in North Carolina where he is currently locked up.
His attorneys accuse the government of "elder abuse."
For decades, Joey Lombardo has been known in mob circles as "the clown." But on Monday, his courthouse hijinks and comedic banter with the media have given way to a tear-jerking motion for mercy. Or at least that is what Mr. Lombardo might like you to believe. Attorneys for the aged Chicago outfit boss say he is just a sick old man in a wheelchair and should be removed from solitary confinement, where he has been locked up 24 hours a day as a violent menace. Long gone are the days when Joey the Clown wore a newspaper mask to court, or led news crews on a sprint through downtown.
Since Lombardo was sentenced to life in prison during the landmark Family Secrets mob murders case, he has been locked up at the Butner North Carolina penitentiary under what are known as "special administrative measures" -- shorthand for solitary confinement.
Lombardo's lawyers say the lockdown was meant to keep international terrorists from plotting attacks.
In their motion to release Lombardo from solitary, they say "the imposition of these draconian conditions against an 84-year-old, chronically ill, wheelchair-user can only be an attempt to appear 'tough on crime' by engaging in 'elder abuse' against a man who once had a reputation (deserved or not) as a major player in the Chicago 'Mob.'"
Lombardo was convicted of personally murdering those who crossed the outfit even while overseeing the Chicago mob. He is a career hoodlum having risen through the ranks from syndicate soldier.
But at 84, his lawyers say keeping his on lockdown is "unduly restrictive on Petitioner's physical well-being and his mental health, especially given his advanced age." And they contend "punitive confinement for more than 30 days constitutes "cruel and unusual punishment."
In the government's response on file Monday, they pay homage to Lombardo's moniker "the clown" then ridicule his effort to escape lockdown, stating: "defendant does not even properly allege that this matter is ripe for federal court review in any forum, let alone this one. In addition to the obvious jurisdictional problem noted above, the defendant does not contend that he has exhausted his administrative remedies."
Prosecutors say Lombardo has already been denied a similar request once before. These special administrative measures are generally imposed by the Bureau of Prisons and have been used on terror suspects, but other Chicago mob bosses have been put in solitary as well.
http://abclocal.go.com/wls/story?section=news/iteam&id=9403899