---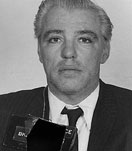 The man said to be the last surviving capo in the crew of notorious New York crime boss "Crazy" Joey Gallo has died.
Frank "Punchy" Illiano passed away at 86 "from an infection while in the hospital" this month, said a source.
His funeral will be at St. Stephen Church in Carroll Gardens on Saturday.
"He lived most of his life with a bullet in his head, sustained from a gun fight," a friend told Page Six. "He was a quiet man, but very tough."
Illiano, who once owned Casa Rosa restaurant in Brooklyn, was said to be a key figure in the "Colombo wars," when Gallo tried to seize control of the Profaci and Colombo crime families in the 1960s and '70s.
After Gallo's 1972 death, Punchy was transferred to Vincent "Chin" Gigante's crew in Little Italy.
http://pagesix.com/2014/01/10/last-capo-in-crime-boss-crazy-joey-gallos-crew-dies/