---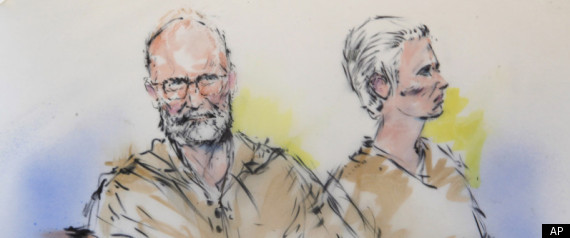 When it comes to the world's most-wanted fugitives, it seems that the public's imagination is always more dramatic than the reality.
James "Whitey" Bulger, the 81-year-old Boston gangster allegedly linked to 19 murders, inspired wild rumors about his life on the run and his million-dollar lifestyle with sightings reported in almost 20 countries from the U.K. to Uruguay. But the reality was a lot more mundane -- it turns out that he spent at least 14 years living in a rent-controlled apartment a few blocks from the beach in Santa Monica, Calif. Bulger's hiding in plain sight recalls the recent capture of Osama Bin Laden, who was holed up for years in a drab building on the outskirts of a resort town in Pakistan. Both men occupied the top tier of the FBI's Ten Most Wanted list, commanded hefty bounties and endured tedious outlaw years.
In a brief appearance in Los Angeles federal court Thursday afternoon, Bulger and his girlfriend, Catherine Greig, claimed they were broke and agreed to return to Massachusetts -- though agents say they found $800,000 in cash along with an arsenal of weapons in the couple's $1,145-a-month apartment. Tanned and relaxed, the 81-year-old former gangster wore wire-rimmed glasses and a neatly-groomed mustache and beard, blue jeans and a white shirt. His appearance contrasted sharply with the FBI-distributed images of him in his prime, when he terrorized Boston with a string of beatings and bank robberies, and help explain how Bulger was able to elude capture for so many years.
"I didn't recognize him," Lindsey Cyr, the mother of Bulger's only child, told The Huffington Post. "I would not have been able to pick him out on the street and he never used to elude me."
Cyr was surprised at his arrest, explaining that Bulger was well-prepared for his life on the run, carrying tens of millions of dollars and several passports. She said she last talked to him in 2002 or 2003, claiming that he did not reveal his whereabouts and emphasized to her that "he was not going back to jail." Their son, Douglas Glenn Cyr, was only six when he died of Reye's syndrome, a severe reaction to aspirin.
Cyr says U.S. Marshals told her that Bulger was running low on money when they came to her house in suburban Boston earlier this year for an annual interview. "They said that he must be in trouble, that he's running out of money," she recalls. "I said, 'I find that hard to believe' -- Jimmy didn't spend much money -- and the guy looked at me funny."
The arrest of Bulger in California was not entirely unexpected. The FBI's Los Angeles office had received numerous tips over the years that he was hiding out in the area, said bureau spokesperson Laura Eimiller, emphasizing the tips were believed to be credible but didn't pan out. Back in 2000, someone reported seeing Greig getting her hair done at a salon in Fountain Valley, the
Los Angeles Times
reported. And in 2005, the FBI probed whether Bulger was the elderly man who robbed three banks in Orange County.
In the end, like in a classic Hollywood thriller, Bulger may have been undone by his longtime companion, blue-eyed, bleached-blonde Greig. Knowing that she was fastidious about her teeth and had a penchant for plastic surgery, the FBI has for years quietly reached out to trade groups in those industries. But recently, the bureau stepped up the effort by placing ads featuring photos of Greig saying "Have you treated this woman?" in publications like
Plastic Surgery News
and the American Dental Association's newsletter. And on Tuesday, it began airing a 30-second TV public service announcement on the fugitive couple during shows popular with women. The PSA ran in 14 markets; though it did not appear in Los Angeles's local stations, it may have been seen by viewers watching cable news networks.
At 8 p.m. that night, the bureau got a tip about Bulger's location, prompting a team to stake out an apartment building in the Princess Eugenia Apartments on 3rd Street in Santa Monica. After seeing the couple, the bureau later says agents lured out the gangster on a ruse and arrested him without too much trouble -- he was "generally cooperative," said Eimiller. Agents arrested Greig in the apartment, where the couple had been living under the aliases Charles and Carol Gasko.
The quick result of the nationwide advertising campaign has prompted
some speculation
that the bureau had known Bulger's location for some time, throwing out the public ad campaign to cover its tracks. Such theories reflect the complicated backdrop of the FBI's relationship with Bulger, who was a confidential informant for the bureau and was tipped off to his pending arrest back in 1995 by an FBI agent.
Former FBI profiler Clint Van Zandt dismisses such speculation, saying that the bureau has been fiercely committed to finding Bulger, though his capture could end up exposing the bureau's secrets.
"There was a lot of intense frustration and it was a tense situation -- you're dealing with a top-level criminal informant, you're handling radioactive material," he said. "They looked for him in 19, 20 countries and the last good tip was in 2002 in the U.K., where someone who knew him saw him. The FBI and Scotland Yard flooded the area. But otherwise, the bureau was going under the premise that he was still in the U.S. -- after 9/11, unless you've got really, really good fake IDs, it's difficult to travel."
Van Zandt, who says he used to chase thousands of leads on missing heiress Patti Hearst as an agent back in the 1970s, says it made sense for the FBI to look for Greig.
"A man can keep a very low profile out of fear that he'll be recognized, and the woman can go out and get the things they need to shop," he says. "It's going to sound chauvinistic, but women need social contact more than men do -- having their hair done, etc. And if you find her, you find him."
http://www.huffingtonpost.com/2011/06/23/how-whitey-bulger-evaded-fbi-for-16-years_n_883585.html