---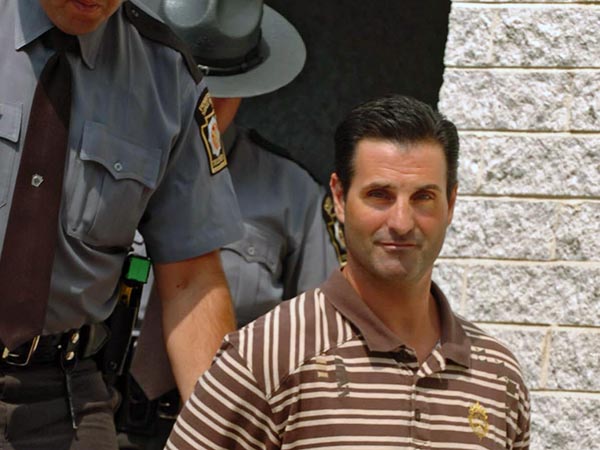 Louis "Bent Finger Lou" Monacello, the mouthy mobster turned star government witness, caught a break in the case against some of Philadelphia's reputed top dons Monday - and not the type that leads to shattered kneecaps.
U.S. District Judge Eduardo Robreno sentenced Monacello, 47, to time served, citing his extensive cooperation in the three-year prosecution of reputed Philadelphia mob boss Joseph "Uncle Joe" Ligambi and nephew George Borgesi.
He had faced up to five years in prison after pleading guilty in 2011 to counts of loan-sharking and racketeering. But after testifying before a grand jury and in two federal trials, Monacello is expected to walk free after a three-year term of court supervision.
And watch out world, Monacello told the court Monday, here comes a new Lou.
"I decided to totally change the path of my life," he said. "I wanted nothing to do with the mob or illegal activity anymore."
Since his release from prison on a 2009 state-court conviction, Monacello has divorced himself from his old life, he said.
He found a job with ACN, an Amway-esque marketing company. He moved into his former vacation home on the Jersey Shore and promised himself he would never be separated from his young daughter again.
And despite his criminal past, his boss, Leeanne Gabriel, told the judge, Monacello has excelled in his new line of work, receiving four promotions and becoming one of the national company's top salesmen in a very short period of time.
"He has absolutely blown my mind," she said. "He broke so many records so quickly."
His new profession, however, shares at least one similarity to his old one. In both, the money flows to the top.
Monacello told a federal jury last year that for years he ran a lucrative illegal gambling and loan-sharking operation for his former capo, Borgesi.
For seven years, Monacello testified, he delivered up to $40,000 in annual proceeds through deposits to Borgesi's prison commissary account or in cash-stuffed envelopes left in the car of Borgesi's wife, Alyson.
All the while, he said, he fought off interference from Borgesi's brother, Anthony, and other mobsters eager to horn in on his business.
No matter what jurors made of what he was saying, his testimony - delivered with a confidence bordering on cockiness - made him one of the trial's most memorable witnesses and prompted Borgesi's lawyer to once refer to him in court as an "egotistical blowhard."
Turned out that the jury agreed.
Two jurors from last year's trial said his clear bitterness toward Ligambi and Borgesi shaded everything he said. One of the women had only one word to describe the reformed mobster: "Slimeball."
Still, in explaining his decision Monday, Robreno said he hoped Monacello's light sentence might induce other potential cooperators from the mob to risk coming forward.
That makes Monacello the fourth of 15 mob associates netted in the FBI's 2011 roundup to walk free.
Jurors acquitted Borgesi in January on one count of racketeering conspiracy and were unable to reach a unanimous verdict on the three counts facing Ligambi, prompting Robreno to declare a mistrial for the second time in the case. Prosecutors declined to pursue a third trial.
Another mob defendant - Joseph "Scoops" Licata - was acquitted during Ligambi's first go-round.
But the difference between them and Monacello, Assistant U.S. Attorney John Han said Monday, was clear.
"They're going to return to a life in the mob. They have no intention of getting out," he said. "Fortunately, for Mr. Monacello, the life of a gangster is not to be the last chapter of his life."
http://articles.philly.com/2014-04-30/news/49497054_1_monacello-ligambi-and-borgesi-george-borgesi